The Tiffany Amber "Lily Twist Wrap Dress" from its Fearless Luxury Collection has been around for a while now and is still going strong. It's the perfect dress for red carpet events, weddings, dinner parties etc. If you are going for a sophisticated and classy look, this dress is the way to go. It comes in different colours, which is great. Personally, i wish i owned this dress in at least two colours, HOWEVER, the cost implications are abit (read as too) steep for me. It retails for about N60,000 (please correct me if I'm wrong). For me, dresses are so hard to re-rock so why spend so much on them, unless of course you can afford to.
A similar and cheaper alternative to the Lily Twist dress is the "Tied T-shirt Dress". It's gives a more casual look but will still do the trick if accessorised properly. It costs 70 pounds (N17,000- N19,000 depending on the exchange rate) and while it still isn't exactly affordable its less than a quarter of what the Lily Twist Dress costs. The only downside is that only comes in yellow, however this is a gorgeous colour and is definitely on trend. You can buy it Here.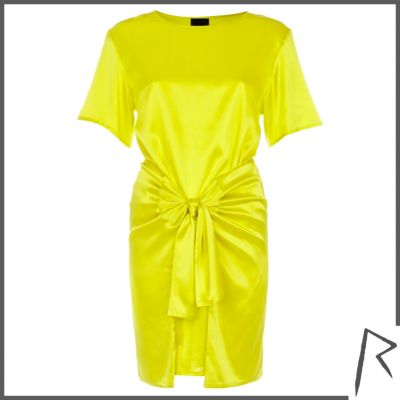 See how popular fashion blogger, Nini Nguyen styled hers.
photo source: ninistyle.net
Please check out our half price sale in the FSS Shop here
Love,
Segi